All the Natural Beginnings Creams and Balms are hand made by Virginia Maddock using the finest natural, plant based ingredients, including herbs, essential oils and nutrients, and are free from toxic petrochemicals. They are tailor made for different uses, including for deep tissue damage to muscles, tendons and bones, or for external healing to broken or allergy prone skin. They contain no animal products and are not tested on animals so are perfect for vegetarians, vegans and those wanting to pursue a cruelty free lifestyle!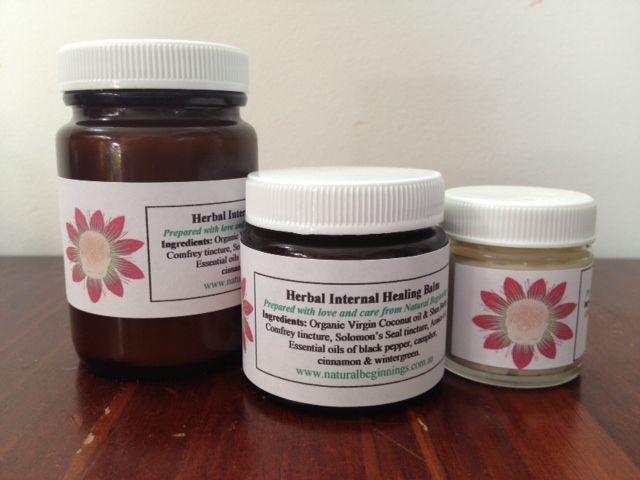 What is the difference between a cream and a balm?
Creams are made using an aqeous (or water based) cream as the base, to which the other therapeutic ingredients are added and blended. This is easily absorbed into the skin for immediate relief but may need extra applications as it is soaked up by the body quicker. Creams are excellent for broken, tender or newly scarred skin (such as new caesarean scars), as less rubbing in is required.
Balms (also known as Ointments or Salves) are made using an oil base such as shea butter and jojoba or coconut oil to which the other therapeutic ingredients are added and blended. This may need to be rubbed in more but due it's oily nature it stays on the skin's surface longer, thereby keeping the tissues in contact with the therapeutic ingredients longer, needing less applications. Balms are good for deep tissue healing and extra dry skin and eczema.
Herbal Cream & Balm Blends
Virginia makes all her herbal creams or balms from scratch. Herbal tinctures rather than infused oils are used which contain a stronger dose of therapeutic ingredients. The tinctures are heated to approximately 70C for a short time so that any excess alcohol is burned off and condenses the remaining healing properties. This mixture of herbs is then blended into the cream or balm and once cooled is then blended with the essential oils.
Virginia can make up a herbal cream or balm to suit your individual needs.
*Due to the individual nature of the blends, consistency may vary. In particular the balms can be hard or soft, especially as the the air temperature can be quite different to when it was made. In this case if its too hard, it can be gently warmed in the sun, or if too soft, it can be placed in the fridge to harden up.
Some example of her blends include:
Herbal External Healing Cream or Balm
The Herbal External Healing Cream or Balm is for external injuries where the skin is broken and/or allergy prone and is in need of soothing and healing. It can be used for cuts, scrapes, grazes, eczema, nappy rash, after birth perineal tears or caesarean scars. It contains Calendula which is one of nature's fastest healers, Comfrey which is healing and anti-inflammatory,and Chickweed which is very soothing and is great for red, itchy rashes or eczema. The essential oils Lavendar, Chamomile and Geranium are very soothing and smell great while Carrot Seed oil contains high levels of Vitamin A to help with healing. Zinc is also great for healing the skin!
Ingredients:
Cream Base: Aqueous cream + Organic shea butter,
Balm Base: Shea Butter + Coconut Oil + Carnauba wax  – all organic.
+ Calendula, Comfrey, Chickweed, Rose Hip Oil, Essential oils of Lavendar, Chamomile, Geranium and Carrot seed, Zinc.
I loooove the [Herbal External Healing] Balm. I can feel my scar softening already! I've also been putting a little bit on the dry spots on my hands. They're all fixed! Amazing!
~ Belynda Carrall

Thanks again for that awesome [Herbal External Healing] Balm you made me. I was worried sex would be painful, but it wasn't and I'm sure its because I massaged the balm into the [episiotomy] scar tissue.
~ Anonymous


Thanks Virginia. Your [Herbal External Healing] Cream is fantastic. I found when I used your cream for 3 days applying twice a day after shower, my eczema cleared up like magic! Better than any chemist cream I have ever used!
– Jen Schellhorn

I got the Herbal External Healing Cream from Virginia to treat my cat who had severe eczema and fur loss. It was excellent. His skin cleared and the fur began to regrow within a week. I also use it for my kids whenever they have nappy rash or other eczema type issues. Highly recommended.
– Liz Carrapetta
Herbal Internal Healing Cream or Balm
The Herbal Internal Cream or Salve is for bruising and internal injuries where there is damage to connective tissue, muscles, tendons and bones. It is available as a cream for quicker absorption or salve for longer lasting application.
It contains Comfrey, commonly known as Knit Bone for its traditional use of healing bone fractures as well as any other muscular damage. Solomon's Seal is a North American herb that is perfect for any musculo-skeletal injury and to my knowledge cannot be found in any other herbal preparations in Australia. Arnica helps with bruising, and the essentials oils of Black Pepper, Camphor, Cinnamon and Clove give warmth to the entire area which increases the rate of healing.
Ingredients:
Base: (Cream) Aqueous Cream + organic shea butter, or
(Balm) Shea butter, Coconut oil and Carnauba Wax – all organic
+ Comfrey, Solomon's Seal, Arnica, Essential Oils of Black Pepper, Camphor, Cinnamon and Clove, Magnesium.

*Due to the particular essential oils in this blend, it is not suitable to use when pregnant, however a special blend can be prepared without any essential oils added!
It also should not be used on broken skin.
"My husband has had a soft tissue injury that no one seems to have been able to help for years. He has seen physiotherapists, chiropractors and has had remedial massage therapy and nothing worked. He was losing the use of his wrist due to the pain and was wearing a support brace daily to function with simple tasks. We contacted Virginia and she suggested the Natural Beginnings 'Herbal Internal Healing Cream'. Within a few applications he had full range of motion back in his wrist without pain, was able to go without his support band, and after a few weeks he had full function again. Thank you so much. He now only uses the cream occasionally and we wouldn't have the house empty of it."
~ Lisa Richards.

The [Herbal Internal Healing] cream worked really well, thanks! Apart from smelling delicious, I don't have any pain or issue with strength, etc in that bone. I used it for about 6 weeks til the pain went away, pretty much, and I wasn't reminded to use it! I (still) haven't seen a GP or had it xrayed, but I've broken bones before, and the feeling is pretty much the same.
~ Alexandra Snep

Thanks so much for your awesome [Herbal Internal Healing Cream] ointment. I banged my arm the day after receiving it and only late thought, maybe I should put some on. Aside from smelling divine and being lovely to smell as I went to sleep, the duration and severity of the bruising is markedly affected. I know you gave me extra but I think I'll need more soon…wondering if it would be wrong to use it as body ointment…LOL!
– Jacqueline McNamara

It's awesome. I've had tennis elbow… I rub my [Herbal Internal Healing] cream in morning and night, along with magnesium oil, and it's feeling so much better. No remedial treatments needed. Just the magic cream!!
– Erika Elliott.

A kid at school ran over Gus' bare big toe today and he says it's really sore. I'll give the magic [Herbal Internal Healing] cream a go! ….
Gus' toe cleared up after two applications! Thank you.
– Erika Elliott

The Herbal Internal Healing Cream and Balm is currently OUT OF STOCK! 
Please contact Virginia for any queries!